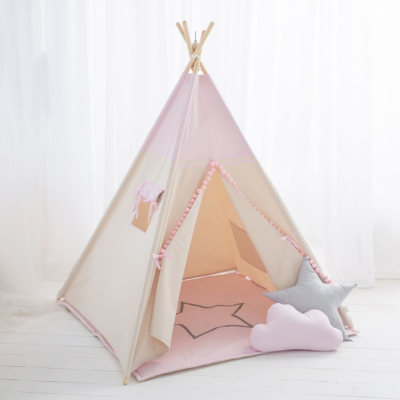 Indian Tipi is a unique place to play in the open air and at home. A children's playtent is a good place to rest and reading corner for books. Children's Tipi is a fashionable design element of a children's room.
The Pink tipi is made of a strong canvas and pink cotton. The entrance to the wigwam is decorated with a pink tape with pompons.   Additionally, two pillows, a garland and a warm mat are included in the set. The tent has a twoside pocket for toys and a roll up shutter window, all fabric parts can be washed in the washing machine. The children's tent folds up easily and does not take up much space.
Indian tipi are made using the hand made method, made of safe for children fabrics of European origin and certified quality. All models are designed by us and we give you a guarantee that you get a unique product of the best quality.
The Pink tipi Cozyshop kit includes:
tipi tent for a girl
soft mat with star
two pillows,
stabilizer
4 poles made of natural pine wood (frame)
Wigwam can also be purchased without mats and pillows.